Battle of San Jacinto
The Battle of San Jacinto, the final engagement of the Texan Revolution was fought where the San Jacinto River flows into Buffalo Bayou (near the present-day city of Houston) on April 21, 1836.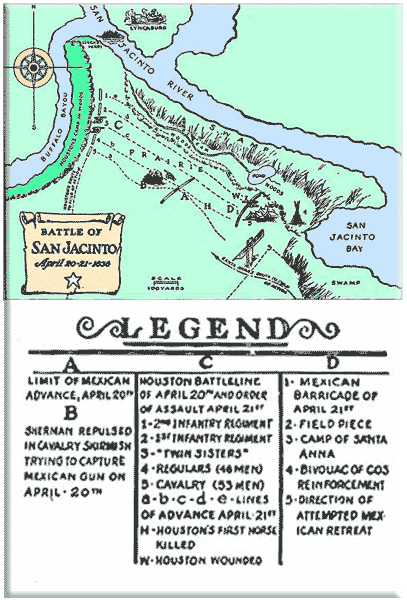 Following defeat of Texan forces at the
Alamo
, the revolutionary fighters retreated eastward to the
Colorado River
near Columbus to avoid confronting
Santa Anna
's numerically superior soldiers. Mexican forces were moving to take control of the Gulf coast seaport cities. Political leaders in Texas, as well as many of the soldiers themselves, were displeased about
Sam Houston
's lack of initiative. On April 20th, Texan forces reached the San Jacinto River and took up a position near Buffalo Bayou. The following day, Mexican forces advanced across a plain, but were halted by an artillery barrage from two famous cannon, the Twin Sisters. Then the Texans mounted a cavalry charge that had little impact other than an outstanding display of courage by Private Mirabeau B. Lamar (who was immediately promoted to cavalry commander). On April 21st, 800 Texans waited to engage a force of about 1,400 Mexicans. In the early morning darkness Houston dispatched a small force, which included Erastus "Deaf" Smith, to destroy a nearby bridge. This action cut off any chance of reinforcements for the Mexicans, but also denied the possibility of retreat to both sides. Later in the day, a confident Mexican army took its afternoon siesta without posting sentries. At about 3:30 p.m. the Texans attacked, yelling reminders to themselves to "Remember the Alamo" and "Remember Goliad." The Battle of San Jacinto lasted only about 18 minutes. The Mexicans were caught completely by surprise; approximately 630 were killed. Texan losses amounted to nine killed and 30 wounded. Sam Houston's ankle was shattered by a rifle ball. The Texan forces confiscated large amounts of the Mexicans' supplies and silver, ending their hopes for retaking their lost province.
Santa Ana
was captured the following day while hiding near the battlefield. The Battle of San Jacinto had far reaching consequences. It effectively ended the war for independence in favor of the Texans. After several years of independence, they were annexed to the United States, an action which precipitated the
War with Mexico
. That war resulted in huge increases in American territory, including present-day California, Arizona, and New Mexico.
---
See
Texan Revolution
Map.