History of Aiken, South Carolina
Aiken, the county seat of Aiken County, is located 17 miles northeast of Augusta. Aiken was settled and incorporated in 1835. The name is derived from William Aiken, a railroad entrepreneur, the father of a future governor of South Carolina. Aiken is a well known winter resort. The Civil War was felt directly in Aiken, when a battle in 1865 was fought on the town's principal street. The Savannah River Site, operated by the Department of Energy, was established in 1950. Aiken Technical College has grown from temporary facilities where classes were first conducted in 1972. The Aiken Preparatory School, established in 1916, has a solid reputation.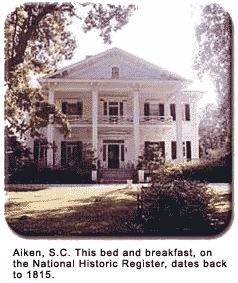 The history of Aiken is on display at the Aiken County Historical Museum. The Carriage Museum at Rye Patch displays restored vintage carriages. Aiken Regional Medical Centers first opened its doors in 1917 as the Aiken Hospital and Relief Society.