History of Akron, Ohio
In 1825, General Simon Perkins, an Ohio Canal commissioner, and a settler named Paul Williams had the foresight to see the advantage of a location at the highest point of the yet-to-be-built Ohio and Erie Canal. They founded a community that they named Akron, from a Greek word meaning "high place." The first section of the canal was opened in 1827, linking Akron with Cleveland. Akron was chartered as a village in 1836, became the county seat in 1842, and was chartered as a city in 1865. From 79 acres of land donated by descendants of the community's founder, the Perkins Woods Park first began in 1900. For "the sole purpose of devoting the same to the uses of a public park, especially as a place for recreation for children of Akron, the city opened the Akron Museum of Natural History in 1950 and three years later the Akron Children's Zoo.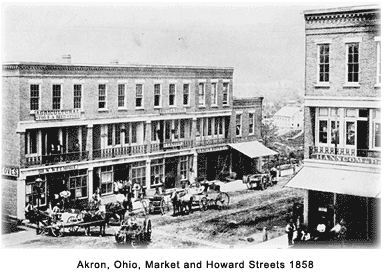 On Easter Sunday, March 23, 1913, a huge rainstorm dumped nearly 10 inches of rain on Akron after a winter of heavy snowfall. The resulting "Great Flood" took five lives and destroyed the Ohio and Erie Canal, which ended canal transportation in Akron. In 1875, Benjamin Goodyear brought his rubber manufacturing business from Melrose, New York, then began to produce fire hoses and other rubber products. Goodyear was the first of several rubber companies established in Akron. Between 1910 and 1920, the city's population tripled as demand for tires for automobiles soared. The city earned the nickname "Rubber Capital of the World." Akron manufacturers, however, were slow to adopt the technology of radial tires and stayed too long with bias-ply products. In the 1970s, industry leadership shifted overseas to European firms that were earlier converts to radial tires. Tire manufacturing remains an essential part of Akron's economy, but the city is no longer the worldwide leader.