Edward Kennedy
When the name Ted Kennedy is mentioned, it immediately evokes a familiar phrase — "swirling controversy." From his election to the Senate in 1962, to fill the seat vacated by his brother, John F. Kennedy, without having served in any elected political position, to the infamous "Chappaquiddick" incident, Kennedy has been haunted by a number of misgivings and allegations of cover-ups.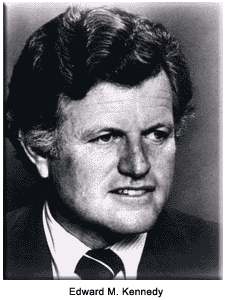 On the political front, he has been a staunch liberal, and one of the senior Democrats in the Senate, coming down on the side of the "little people." He also has a reputation for "telling it as it is." The early years Edward Moore Kennedy was the last of nine children in the Joseph P. and Rose Kennedy clan. After attending Milton Academy, a private school in the southwest Boston suburb of Milton, Kennedy enrolled in Harvard College in 1950. In May 1951, he swung and missed for "strike one," when he arranged for a surrogate test-taker to take his Spanish final for him, and was subsequently suspended. He next served two years in the U.S. Army, stationed in Paris at the Supreme Headquarters Allied Powers Europe (SHAPE) headquarters. Following his stint in the armed services, Kennedy reentered Harvard to complete his degree in government, and then went on to the Hague Academy of International law and the University of Virginia Law School, earning his law degree in 1958. He was admitted to the Massachusetts Bar the following year. Teddy the politician When brother John left the Senate in 1960, a special election to fill the seat was not held until 1962. Many felt the younger Kennedy was using the family name to make up for his lack of political experience. Those critics have been answered by his more than 40 years of public service. Following the election, it was not long before Kennedy's life threatened to unravel. In November 1963, shortly after taking office, he experienced the assassination of the president, his brother, John. Voted back to the Senate in 1964, Kennedy became esteemed for his carefully researched, plainly defined social welfare bills. Also in 1964, Kennedy barely survived a plane crash in which he received a severe back injury, broken ribs, a punctured lung, and internal bleeding. The crash claimed the lives of the pilot and one of his aides. Misfortune continued to plague Edward and the Kennedy family when his brother, Robert F. Kennedy, was assassinated while campaigning for the 1968 Democratic nomination for president. In 1969 his colleagues elected him Senate majority whip, and he was widely regarded as a Democratic front runner for the U.S. presidency. The Democratic Party had lost a charismatic leader, but the youngest Kennedy was a natural to begin grooming for a leadership role. In July 1969, however, that all changed. Chappaquiddick By far the most defining moment in Ted Kennedy's life, personal and political, came during a party being held on Chappaquiddick Island, a small eyelet just east of Martha's Vineyard.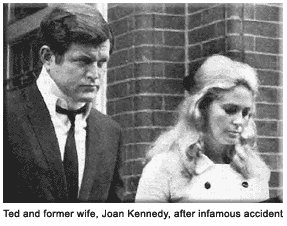 Kennedy, who had a "hushed" history of driving violations, drove his car off a wooden bridge into a channel of water, landing upside down. Kennedy managed to escape. His passenger, Mary Jo Kopechne, did not. According to Kennedy, he went for help to try to rescue the young woman, but when help arrived, attempts to save Kopechne failed. The event promptly turned into a full-blown scandal. Among the harshest of criticisms was the fact that Kennedy contacted his attorney before reporting the accident to the police and for not coming to Kopechne's immediate aid. In spite of his return to the Senate in 1970, he lost his post as majority whip. The run for the White House The incident plagued Kennedy throughout his attempts to land a presidential nomination. He withdrew from the 1976 race, and even though Jimmy Carter was the current Democratic president in 1980, Kennedy tried to wrest the nomination from him and failed. Political pundits pointed to Chappaquiddick as the stumbling block in Kennedy's efforts, despite early, enthusiastic support for his campaign. Still others suggest that an interview with CBS News correspondent Roger Mudd was Kennedy's downfall. When asked why he wanted to be president, Kennedy could not give a definitive answer. Kennedy did win a few primaries against Carter, but eventually withdrew from the race and threw his support to Carter. Kennedy then gave what many believe was his finest and most inspiring speech, at the 1980 Democratic Convention in New York City. During the 1980s, he was a leading liberal critic of the Reagan administration. Notable committees Senator Kennedy has chaired the following:
Committee on the Judiciary (96th Congress),

Committee on Labor and Human Resources (100th through 103rd congresses),

Committee on Health, Education, Labor, and Pensions (107th Congress).
Political stands
Kennedy has tirelessly advocated such liberal programs as national health insurance, tax reform, and education. As he said in his famous speech at the 1980 Democratic National Convention,
"Finally, we cannot have a fair prosperity in isolation from a fair society. So I will continue to stand for a national health insurance. We must not surrender to the relentless medical inflation that can bankrupt almost anyone and that may soon break the budgets of government at every level. Let us insist on real controls over what doctors and hospitals can charge, and let us resolve that the state of a family's health shall never depend on the size of a family's wealth."
"And to all those overburdened by an unfair tax structure, let us provide new hope for real tax reform. Instead of shutting down classrooms, let us shut off tax shelters. Instead of cutting out school lunches, let us cut off tax subsidies for expensive business lunches that are nothing more than food stamps for the rich."
However, the Democratic senator was influential and supportive of Republican President
George W. Bush
's much-ballyhooed "No Child Left Behind" legislation. It turned out to be a product of considerable compromise by each side — too much, according to many. Kennedy later recanted his support, distanced himself from the bill, and said the program was woefully underfunded and doomed to failure.
The abortion issue.
Kennedy's Roman Catholic background led him to support the "pro-life" stance on this highly controversial subject. But his position would change to "pro-choice" shortly after the
Roe v. Wade
decision in January 1973. That ruling declared that the "right of privacy ... is broad enough to encompass a woman's decision whether or not to terminate her pregnancy."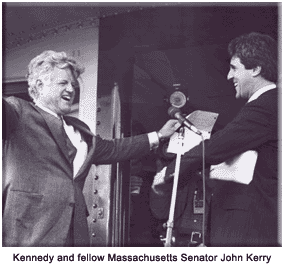 On immigration.
The Hart-Celler Act of 1965, backed by Kennedy, drastically altered the way immigration was handled in America. According to Kennedy, "The bill will not flood our cities with immigrants. It will not upset the ethnic mix of our society. It will not relax the standards of admission. It will not cause American workers to lose their jobs." As the senior Democrat on the Senate Committee on Immigration, Kennedy continues to support high levels of idealism. Irrespective of one's opinion about immigration, even a quick overview of U.S. immigration history reveals stark differences between pre-1965 and post-1965 immigration patterns. Quota revisions in favor of Asians in the latter 1960s, and the concurrent rise in cultural diversity, are the undeniable outcomes of those differences.
Alternate energy sources.
On record, Kennedy has been a strong advocate of alternative energy development. Off record, however, he opposed a wind farm within sight of his home, prompting critics to remark that Kennedy fell victim to the "Not In My Backyard" syndrome.
Other notable issues.
Senator Kennedy voted 'no' on a balanced-budget constitutional amendment (March 1997). He voted 'yes' on adding sexual orientation to the definition of hate crimes (June 2002). He supported a moratorium on the death penalty and more DNA testing (March 2001); and voted 'yes' on removing consideration of drilling in the Arctic National Wildlife Refuge (ANWR) from a budget bill (Mar 2003). Kennedy was rated 89 percent by the League of Conservation Voters (political arm of the environmental movement), indicating pro-environment votes (Dec 2003). And he Voted 'yes' on enlarging NATO to include Eastern Europe (May 2002). Massachusetts Sen. Edward Kennedy, the patriarch of the first family of Democratic politics, died of cancer on August 25, 2009, at his home in Hyannis Port, Massachusetts. Edward Kennedy was acknowledged by both sides of the aisle to be a committed, effective senator. He made friends with legislators of all political persuasions to further his progressive agenda.