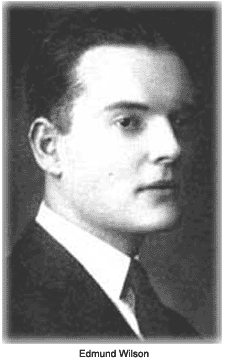 Edmund Wilson is considered to be one of the best American literary critics of the 20th century. Born on May 8, 1895, Wilson received his higher education in English, French, and Italian literature from Princeton University and graduated in 1916. He went to work as a reporter for the New York Sun. During World War I, he served in the Army Intelligence Corps.
Following the war, Wilson became the managing editor of Vanity Fair from 1920 to 1921, and then joined the staff of The New Republic from 1926 to 1931. He wrote his famous book, Axel's Castle: A Study in the Imaginative Literature of 1870-1930, after which his critical reputation was established. He managed to live off the earnings of that lone book before going to work for The New Yorker from 1944 to 1948.
Failing to pay his income taxes between 1946 and 1955 provoked an investigation of his earnings by the Internal Revenue Service. Wilson wrote numerous books and essays before his death on June 12, 1972, in Talcottville, New York.
---- Selected Quotes ----
Quotes by Edmund Wilson.
Regarding Literary Criticism
In a sense, one can never read the book that the author originally wrote, and one can never read the same book twice.
1938

Quotes regarding Edmund Wilson.
By Wilfrid Sheed
He was, as painted, aristocratic, beyond any writer I've met, but in a Jeffersonian-American way that brooked no artificial distinctions. There was no cheap way you could impress him... It was a particular strength of his as a critic that he was not even impressed by the Dead as such. He could write of living authors in precisely the same tones, and applying the same standards, as he used for the Classics.
The Good Word & Other Words, 1978

Off-site search results for "Edmund Wilson"...
Edmund Wilson
  (3) Edmund Wilson visited Chicago and the Hull House Settlement in 1932. Chicago is one of the darkest of great cities. In the morning, the winter sun does not seem to give any light: it leaves the streets dull. It is more like a foEdmund Wilson visited Chicago and the Hull House Settlement in 1932. Chicago is one of the darkest of great cities. In the morning, the winter sun does not seem to give any light: it leaves the streets dull. It is more like a forge which ...
http://www.spartacus.schoolnet.co.uk/USAwilsonE.htm
Edmund Wilson
... to get away from the academic canons, that always tend to keep literature provincial." The Bit Between My Teeth Edmund Wilson: Classic & Commercial is a Pace University website edited by David Castronovo, Ph.D. and designed by RobertEdmund Wilson: Classic & Commercial is a Pace University website edited by David Castronovo, Ph.D. and designed by Robert Bové, M.F.A.
http://webpage.pace.edu/dcastronovo/edmundwilson/
The New York Review of Books: Edmund Wilson
... March 3, 1977: Edmund Wilson: Letters to John Dos Passos February 17, 1977: Edmund Wilson's Letters: To and About F. Scott Fitzgerald October 18, 1973: Two Letters by Edmund Wilson February 10, 1972: The Monsters of Bomarzo NovemberEdmund Wilson: Letters to John Dos Passos February 17, 1977: Edmund Wilson's Letters: To and About F. Scott Fitzgerald October 18, 1973: Two Letters by Edmund Wilson February 10, 1972: The Monsters of Bomarzo NovembEdmund Wilson's Letters: To and About F. Scott Fitzgerald October 18, 1973: Two Letters by Edmund Wilson February 10, 1972: The Monsters of Bomarzo NovemberEdmund Wilson February 10, 1972: The Monsters of Bomarzo November 18, 1971 ...
http://www.nybooks.com/authors/2917