Chester Bowles, along with William Benton, established the Benton and Bowles Advertising Agency in 1929. Although The Great Depression had hit by the mid-1930s, their business was a multi-million dollar company, and he made more than $250,000 a year by 1941 as the chairman of its board. That same year he sold his shares in the company and made an attempt to join the Navy. Although he was denied due to an ear problem, he took a job with the State of Connecticut in the Wartime Rationing Administration.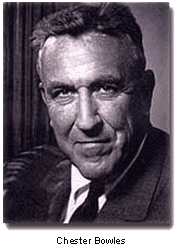 With his experience in finances and the administration, he became the state director of the Office of Price Administration and was later appointed general manager of the Federal Price Administration in 1943 by President Franklin D. Roosevelt. Soon after his appointment to the post of Undersecretary of State in 1961 by President John F. Kennedy, he was replaced by George Ball for his supposed leak of opposition to the Bay of Pigs Invasion in what amounted to a bureaucratic reshuffling that became known as the Thanksgiving Day Massacre. He died in 1986 at age 85 after suffering a stroke in Essex, Connecticut, and is buried in River View Cemetery.
Off-site search results for "Chester Bowles"...
Biography: Chester Bowles
Chester Bowles died in Essex, Connecticut, on 25th May, 1986. Forum Debate on the Kennedy Assassination Forum Debate on Watergate Available from Amazon Books (order below) Enter keywords... NGfL, Standards Site, BBC, PBS OnlinChester Bowles died in Essex, Connecticut, on 25th May, 1986. Forum Debate on the Kennedy Assassination Forum Debate on Watergate Available from Amazon Books (order below) Enter keywords... NGfL, Standards Site, BBC, PBS Online, Virtual ...
http://www.spartacus.schoolnet.co.uk/JFKbowles.htm
Bowles, Chester
SEARCH | 50s HOME | READING LIST | NEWS | FILREIS HOME Document URL: http://www.writing.upenn.edu/~afilreis/50s/bowles-chester.html Last modified: Monday, 02-Aug-2004 09:28:42 EDT ...
http://www.writing.upenn.edu/~afilreis/50s/bowles-chester.html
Chester Bliss Bowles: Governor and Diplomat
... BOWLES: GOVERNOR & DIPLOMAT 1901-1986 by Edric Lescouflair, Harvard College '03 Chester Bowles was born in Springfield, Massachusetts on April 5, 1901. He and his parents were active in the Springfield Unitarian Church. His gChester Bowles was born in Springfield, Massachusetts on April 5, 1901. He and his parents were active in the Springfield Unitarian Church. His grandfather ...
http://www.harvardsquarelibrary.org/unitarians/bowles.html