The Beirut Bombing occurred on October 23, 1983. The act was a terrorist attack against the United States Marine Headquarters during the Lebanese Civil War. A yellow Mercedes delivery truck, its engine revving, crashed through several fences, then slammed into the headquarters lobby. Once in the lobby, the smiling driver, a Shiite Muslim suicide bomber, encountered unarmed marines and detonated his truck with 12,000 pounds of TNT, creating the largest non-nuclear explosion ever seen by the FBI.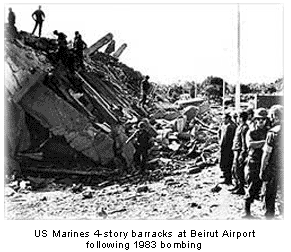 The bomb's force leveled the four-story, cinder-block building, killing nearly 300 people. A few months later, President Ronald Reagan ordered the withdrawal of U.S. troops, who had been stationed in Lebanon to provide stability during the civil war between Muslims and Christians.
Off-site search results for "Beirut Bombing"...
1983 Beirut barracks bombing: Information From Answers.com
Besides a few shellings, there was no serious retaliation for the Beirut bombing from the Americans. In December 1983, U.S. aircraft attacked Syrian targets in Lebanon, but this was in response to Syrian missile attacks on planes, aBeirut bombing from the Americans. In December 1983, U.S. aircraft attacked Syrian targets in Lebanon, but this was in response to Syrian missile attacks on planes, and not the ...
http://www.answers.com/topic/1983-beirut-barracks-bombing
Terrorist Bombing Of The Marine Barracks, Beirut, Lebanon
Embassy in Beirut. The U.S. military eventually withdrew from Lebanon, where it and France had gone to help bring peace to a country torn by civil war. A separate blast on the French compound in Beirut on October 23, 1983, killed 58 French ...
http://www.arlingtoncemetery.net/terror.htm
Atomic Bomb
This atomic bomb, nicknamed Little Boy, along with a second atomic bomb, dropped on Nagasaki, Japan, on August 9, 1945, prompted the Japanese government to surrender. World War II was now officially over. The atomic bomb did help the United ...
http://www.ohiohistorycentral.org/entry.php?rec=1613