Hyman Rickover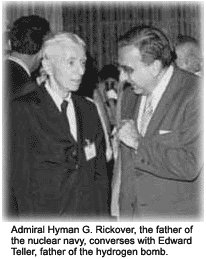 Hyman Rickover is universally regarded as the father of the U.S. Navy`s nuclear submarine program. Having experienced submarine service before World War II, Rickover realized after the war that Nuclear Power had the potential to remove many limitations on submarine design. His vision resulted in the launching in 1954 of the USS Nautilus, the world`s first nuclear-powered submarine. Hyman George Rickover was born in the Polish city of Makow, then part of the Russian Empire, on January 27, 1900. His parents brought him to the United States, where they settled in Chicago, Illinois. Rickover gained admission to the United States Naval Academy in 1918 and was commissioned an ensign in 1922. After services on the destroyer USS La Vellette and the battleship USS Nevada, he returned to the Naval Academy for additional training in electrical engineering. He continued at the University of Columbia, where he received a Master of Science degree in Electrical Engineering in 1929. From 1929 to 1933, he was assigned to the submarine service. While posted to the Office of the Inspector of Naval Material in Philadelphia, Pennsylvania, in 1933, Rickover translated a classic World War I German text on submarines, Das Unterseeboot. The only command of his naval career came in 1937, when he was put in charge of the minesweeper USS Finch. His acceptance as an engineering duty officer in 1939 removed him from consideration for any further commands. During World War II, Rickover served in the Navy`s Bureau of Ships as head of the Electrical Section, where his performance earned him a Legion of Merit medal. Following the war, Rickover was one of a group of naval officers sent to the Clinton Laboratories, later known as Oak Ridge National Laboratory, Tennessee, to study nuclear engineering in 1946. When the Clinton School closed down in 1947, Rickover was reassigned to the Bureau of Ships, but also managed an assignment with the newly formed Atomic Energy Commission in its Division of Reactor Development. Skillfully using these twin roles, Rickover built support for the concept of nuclear submarines. When the Bureau of Ships created a Nuclear Power Branch of its Research Division in August 1948, Rickover was made its head. By 1949, Rickover was using his industry connections to advance research initiatives. Two competing concepts for cooling nuclear submarine reactors were available, cooling by pressurized water and by liquid metal. Rickover wanted to try both of them, so he arranged with Westinghouse in 1949 to investigate the pressurized water approach, and with General Electric in 1950 to pursue a liquid sodium approach. Rickover was forthright and abrasive in his response to critics of nuclear submarines. Not surprisingly, he made enemies among the navy brass. Standard navy policy is that an officer is expected to retire after being passed over twice for promotion. When Rickover was not promoted to rear admiral on his second chance, that would ordinarily have spelled the end to his career, but his many supporters in Congress forced hearings and the Navy was obliged to make an exception. Rickover became a Rear Admiral in 1953, Vice Admiral in 1958, and Admiral in 1973.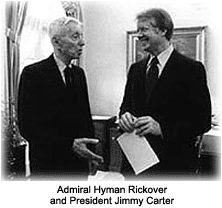 Rickover`s faith in nuclear submarines was vindicated in January 1955, when the USS Nautilus reported that it was underway entirely with nuclear power. The Nautilus employed the pressurized water method of reactor cooling. The Navy`s second nuclear submarine, USS Seawolf, was powered by a reactor using liquid sodium. Rickover carefully selected the individuals who would enter his nuclear submarine program. One of them was Jimmy Carter, then a young Navy lieutenant and later president of the United States. Carter recalls that when Rickover asked him where he had placed in his Annapolis class, Carter replied proudly that he finished 59th out of 820. Rickover, far from being impressed, asked if he had done his best. When Carter admitted that he hadn`t always, Rickover replied, "Why not?" Carter could give him no answer, but resolved to set higher standards for himself thereafter. Due to his special skills and knowledge, Rickover was granted an exemption from the Navy`s usual retirement age for active officers. Finally, in 1982, President Reagan forced him to resign, after 64 years of service, due to his stand against paying exorbitant prices for military contracts. Some of Reagan's campaign contributions had been received from those military contractors.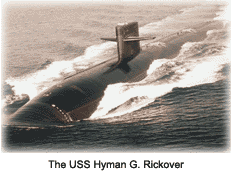 The USS Hyman G. Rickover attack submarine was named in his honor and so was the Rickover Hall at the U.S. Naval Academy. The USS Hyman G. Rickover was named two years prior to Rickover's death, making it one of only a few ships to be named for someone still living. He received numerous medals and decorations, including the Distinguished Service Medal, Medal of Merit, Navy Commendation Medal, and the World War II Victory Medal. For his exemplary wartime service, he also was made Honorary Commander of the Military Division of the Most Excellent Order of the British Empire. Upon his retirement, he established the Rickover Science Institute at MIT, which later became the Research Science institute, one of the most prestigious high school summer school programs in the world. Rickover died on July 8, 1986, and was buried in Arlington National Cemetery.