General Motors Corporation
General Motors (GM) was formed in 1908 as a holding company for Buick. William Crapo "Billy" Durant was the company owner at the time. During the company's early years, Durant went on a shopping spree for automobile manufacturers. That buy-out of 30 other companies came to an end in 1910. Durant had spent so much money that he was unable to hold his position, because banks were now unsure of the company's financial stability. The firm prospered, however, and went on to purchase the internal combustion engine railcar builder Electro-Motive Corporation and its engine supplier, Winton Engine, in 1930. By 1955, General Motors was the first company in America to make more than $1 billion in a single year.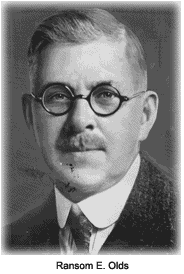 The beginning Olds Motor Vehicle Company, Inc., the oldest unit of General Motors Corporation, was organized in 1887 by Ransom E. Olds with $50,000 of capital (5,000 shares of stock at $10 per share). On May 8, 1899, shortly after the appearance of the world's first Oldsmobile, Olds Motor Vehicle [and Olds Gasoline Engine Works of Lansing merged (with $500,000 capital) to form Olds Motor Works. The new auto company then constructed its first factory in Detroit, Michigan, specifically for the manufacture of premier U.S. automobiles. GM is founded An important building block for the eventual GM corporation occurred in 1907. In that year, the Buick Company began production of a four-cylinder car, the Model D. Henry M. Leland then established the Cadillac School of Applied Mechanics, the first school to train machinists, technicians and toolmakers. And on August 28th, 1907, in Pontiac, Michigan, the Oakland Motor Car Company, predecessor to Pontiac Motors, was founded by Edward M. Murphy. Under Billy Durant's leadership, General Motors Company was founded on September 16, 1908. That year the Buick Motor Company, then Oldsmobile, were bought out by the growing GM. A dynasty develops
By the time 1909 rolled around, General Motors had purchased a half interest in Oakland Motor Car Co. When Oakland's founder passed away the following summer, General Motors took little time to gain full control of the company. That same year, Cadillac, AC Spark Plug, and Rapid Motor Vehicle Company (predecessor of GMC Truck) of Pontiac, Michigan, were integrated into the GM family as well. Fortunately for the Ford Motor Company (1909), William Durant was denied a "buy-out loan" of $9.5 million by his bankers. Over the next two decades, General Motors fine tuned its standards of quality, producing state-of-the-art driving machines. Also during this period, GM developed the General Motors Truck Company (later known as GMC), Chevrolet Motor Company of Michigan, General Motors Export Company, and General Motors of Canada. In 1925, Ethyl Gasoline Corporation was formed by General Motors and Standard Oil Company of New Jersey. The added ethyl produced a higher octain level, and produced a cleaner gasoline for the engine. That advancement in fuel efficiency was one more asset to the prosperous GM company. A worldwide reach and the Depression By the time of the stock market downfall (Black Thursday, 1929), and the following Great Depression, GM had become known worldwide. By 1929, General Motors boasted manufacturing facilities and branch sales offices in Shanghai, China; Copenhagen, Denmark; Antwerp, Belgium; Luton, England; São Paulo, Brazil; Buenos Aires, Argentina; Malaga, Spain; Paris, France; Berlin, Germany; Port Elizabeth, South Africa; Melbourne, Perth, Sydney, Brisbane, and Adelaide, Australia; Petone, New Zealand; Kobe and Osaka, Japan; and Alexandria, Egypt. The year 1929 also put GM in the pilot seat. Fokker Aircraft Company was bought out, which paved the way for General Motors Aviation Company. Although the Depression exerted devastating effects on the nation's financial stability, large companies were able to collect and consolidate equity to get by. Also, financial depression did not affect GM's numerous other overseas facilities. The "Big Three" survived the Depression; in fact GM made money every year, and Chrysler Corporation actually grew.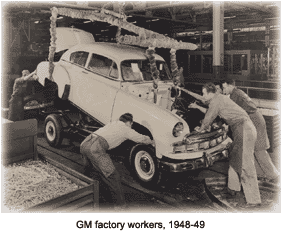 World War II On January 11th, 1940, General Motors celebrated the production of its 25th millionth automobile. Following that milestone, the company continued to push forward with new grit and determination. GM would shortly convert 100 percent of its production to the war effort. In 1941, GM Japan closed its doors, and by 1942, the U.S. government asked for help with the production of military vehicles. GM delivered more than $12.3 billion worth of war material to lead the Allied war effort, including trucks, guns, airplane engines, airplanes and parts, tanks, marine diesels, shells and other related products. Continued preeminence In the following five decades, GM and affiliated companies developed and engineered some of the most popular automobiles ever made. The Cadillac, Corvette, El Camino, Malibu, and Camaro are just a few of the memorable models that were sold. GM also provided the space program with the mobility system for the Lunar Roving Vehicle, which enabled Apollo 15 astronauts to accomplish mankind's first vehicular drive on the moon.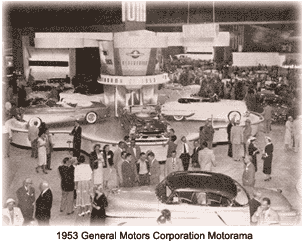 In spite of a few legal issues with GMAC dealers in the 50s and the U.S. Supreme Court's 1961 decision to charge du Pont, GM's largest shareholder, with violating the Clayton Antitrust Act*, General Motors has successfully and smoothly sailed through its history of technological innovations. Today, General Motors remains a U.S.-based automobile maker with worldwide operations and brands, including Buick, Cadillac, Chevrolet, Daewoo, GMC, Holden, Hummer, Opel, Pontiac, Saturn, Saab, and Vauxhall.
---
*The nation's highest court ruled in a case brought by the Justice Department that the 23-percent stock interest du Pont held in GM violated the Clayton Antitrust Act. The du Pont directors on GM's board of directors were forced to resign in 1959. The case was resolved in 1961 when du Pont divested its stock. See also
Louis Chevrolet
.