Rockefeller Family
John D. Rockefeller Sr. founded the Rockefeller fortune by building the Standard Oil Trust. His descendants have played prominent roles in American business, politics, and philanthropy.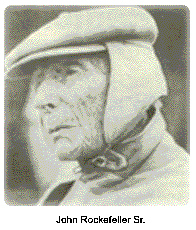 John D. Rockefeller Jr. (1874-1960) spent a short time in the family business, but is primarily remembered for his role in establishing many Rockefeller family philanthropies. Rockefeller Jr. and his wife Abbey Greene Aldrich, daughter of Rhode Island Senator Nelson Wilmarth Aldrich, gave birth to one daughter and five sons: Abby Rockefeller Mauzé, John Davison Rockefeller III, Nelson Aldrich Rockefeller, Laurance Spelman Rockefeller, Winthrop Rockefeller, and David Rockefeller. When Chase Manhattan Bank acquired Equitable Trust Company, the effect was to provide Rockefeller with control of Chase. His son David Rockefeller (born 1915) became the bank's chairman. Two other sons became governors: Nelson Rockefeller (1908-1979) became the governor of New York in 1956, ran unsuccessfully for the Republican presidential nomination in 1960, 1964, and 1968. He was appointed vice president after Gerald Ford became president upon the resignation of Richard Nixon in 1974. Winthrop Rockefeller (1912-1973) was governor of Arkansas from 1967 to 1970.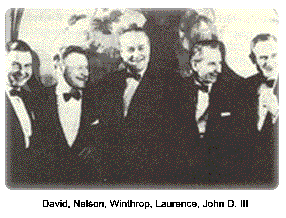 David, the only surviving son of John Rockefeller Jr., is now in his eighties. The Rockefeller family continues to hold interests in The Rockefeller University and the Rockefeller Brothers Fund, organizations providing educational opportunities and philanthropic endowments to the United States and the rest of the world. According to the family's chief financial advisor, J. Richardson Dilworth, there were 84 living Rockefellers as of 2005. The next generation of Rockefellers is represented in politics by John D. Rockefeller IV (born 1937), who was elected lieutenant governor of West Virginia in 1976 and has represented West Virginia in the U.S. Senate since 1984. Regarding international concerns, David Rockefeller Jr. serves as a member of the Council on Foreign Relations, vice chairman of the National Park Foundation, and is a past national vice chairman of the Alaska Conservation Foundation.