One of the most complex military men of American history, General George Smith Patton Jr. was born November 11, 1885, in San Gabriel, California. Patton is regarded as one of the most successful United States field commanders of any war. He continually strove to train his troops to the highest standards. As a general, he was known for his severe manner and for packing ivory-handled pistols.
Patton's youth
As a youth, Patton decided that his goal in life was to become a hero. His ancestors had fought in America's greatest wars: the War of Independence, Mexican War, and Civil war, and he was enthralled by the stories of their valiant and victorious deeds. Patton attended the Virginia Military Institute for a year and went on to graduate from the United States Military Academy at West Point on June 11, 1909. Patton was then commissioned a second lieutenant in the 15th cavalry Regiment.
Patton married Beatrice Ayer, whom he dated while at West Point, on May 26, 1910. When they vowed to love, honor, and obey, they both meant every word of it. Beatrice and George met for the first time when they were children, on Catalina Island off the California Coast. A family member said, "Neither of them ever had another sweetheart." Beatrice saw the potential for greatness in George and became devoted to him. Early on, she made up her mind that she would be a soldier's wife, dedicating her life to him and his career. Inspired by Beatrice, George had to prove he was worthy of her love and that she deserved a man who could achieve the highest goals.
Patton represented the United States at the Stockholm Olympics at the first Modern Pentathlon in 1912, doing well overall and especially well in the shooting event. Following the Olympics, Patton took lessons at the French Cavalry School and studied French sword drills. In the summer of 1913, Patton received orders to report to the commandant of the Mounted Service School at Fort Riley, Kansas. Patton became the school's first Master of the Sword. Patton designed and taught a course in swordsmanship while still a student.
Patton's first exposure to battle occurred while he was deployed under General John J. Pershing in Mexico during a 1915 expedition. In 1916, he accompanied Pershing as an aide on his expedition against Francisco "Pancho" Villa into Mexico. Patton quickly rose in the ranks. Pershing was impressed by Patton's determination. He was promoted to captain and placed in command of Pershing's Headquarters Troop upon their return from Mexico.
Drawing from his first-hand knowledge of the weapon, Patton organized the American tank school in Bourg, France, and trained the first 500 American tankers. The corps fielded 345 tanks at the Meuse-Argonne Operation in September 1918. Commanding from the front lines, he maintained communications with the rear command post with pigeons and a group of runners. Patton was shot three times in the leg after continually exposing himself to gunfire, which earned him the Distinguished Service Cross for Heroism, one of his many medals.
Patton viewed tanks as the future of modern ground combat, and was an outspoken advocate. Congress, however, was not willing to appropriate funds to build a large armored force. Patton continued to study and wrote extensively on the subject. He conducted experiments to improve radio communications between tanks. He also helped to invent the co-axial tank mount for cannons and machine guns. Following World War I, Patton held a variety of staff jobs in Hawaii and Washington, D.C. He graduated from the Command and General Staff School in 1924, and completed his military schooling as a distinguished graduate of the Army War College in 1932.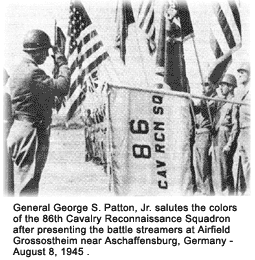 When the German Blitzkrieg struck Poland in 1939, Patton was determined to convince Congress that America needed armored and mobile tanks. He succeeded, and the Armored Force was created in 1940. Patton was transferred to the Second Armored Division at Fort Benning, Georgia, and named commanding general on April 11, 1941. Two months later, Patton appeared on the cover of Life magazine. Also during that time, Patton began to deliver his famous "Blood and Guts" speeches in a specially built amphitheater.
A year after the Pearl Harbor attack, Patton commanded the Western Task Force for Operation Torch, the Allied invasion of North Africa. During the invasion of Sicily in July 1943, Patton commanded the Seventh Army in conjunction with the British Eighth Army in the Italian Campaign, which restored Sicily and Italy to its citizens.
Under General Dwight D. Eisenhower, Patton was given command of the Third Army in France from which Patton and his troops dashed across Europe after the Battle of Normandy and exploited German weaknesses with great surprise and success. The Third Army also performed brilliantly in the Battle of the Bulge, rescuing besieged Bastogne. They covered 600 miles, chasing the Germans across France, Belgium, Luxembourg, Germany, Austria and Czechoslovakia. Patton slowed down when the Third Army liberated the Buchenwald concentration camp. He established a policy, later emulated by other commanders, of compelling local German civilians to walk through the camps to witness what had happened in them. The Third Army had liberated or conquered 81,522 square miles of territory by the time World War II was over.
Patton assumed command of the 15th Army in American-occupied Germany in October 1945. On December 9, he was injured in an automobile accident and died 12 days later. Patton's remains are buried among the soldiers who died in the Battle of the Bulge, in Hamm, Luxembourg.
Patton is now considered to be one of the greatest military figures in history. The 1970 film, "Patton," starring George C. Scott, provoked new interest in him. The movie won seven Academy Awards, including Best Actor and Best Picture, and immortalized General George Smith Patton Jr. as one of the world's most intriguing military men.
---- Selected Quotes ----
Quotes by George S. Patton Jr..
Regarding Dwight D. Eisenhower
Of all the many talks I had in Washington, none gave me such pleasure as that with you. There were two reasons for this. In the first place, you are about my oldest friend. In the second place, your self-assurance and to me, at least, demonstrated ability, give me a great feeling of confidence about the future … and I have the utmost confidence that through your efforts we will eventually beat the hell out of those bastards — "You name them; I'll shoot them!"
Letter to Eisenhower in 1942
Regarding World War II
Have taken Trier with two divisions. What do you want me to do? Give it back?
Reply to a message from Eisenhower to bypass the German city of Trier because it would take four divisions to capture it, March 2, 1945
Regarding Battle of the Bulge
Almighty and most merciful Father, we humbly beseech Thee, of Thy great goodness, to restrain these immoderate rains with which we have had to contend. Grant us fair weather for Battle. Graciously hearken to us as soldiers who call upon Thee that, armed with Thy power, we may advance from victory to victory, and crush the oppression and wickedness of our enemies and establish Thy justice among men and nations.
Actually written by his chief chaplain, James H. O'Neill

Quotes regarding George S. Patton Jr..
By Bill Mauldin
If you're a leader, you don't push wet spaghetti, you pull it. The U.S. Army still has to learn that. The British understand it. Patton understood it. I always admired Patton. Oh, sure, the stupid bastard was crazy. He was insane. He thought he was living in the Dark Ages. Soldiers were peasants to him. I didn't like that attitude, but I certainly respected his theories and the techniques he used to get his men out of their foxholes.
"The Brass Ring", 1971

- - - Books You May Like Include: ----
An Army at Dawn: The War in North Africa, 1942-1943 by Rick Atkinson.
In the first volume of his monumental trilogy about the liberation of Europe in WW II, Pulitzer Prize winner Rick Atkinson tells the riveting story of...
Citizen Soldiers: The U S Army from the Normandy Beaches to the Bulge to the Surrender of Germany by Stephen E. Ambrose.
Stephen E. Ambrose combines history and journalism to describe how American GIs battled their way to the Rhineland. He focuses on the combat experienc...
Patton: A Genius for War by Carlo DEste.
Based on exclusive access to his personal and public papers, and with the full cooperation of his family, Patton is an intimate look at General George...
Yanks : The Epic Story of the American Army in World War I by John S.D. Eisenhower.
In the perfect match of subject and author, John S. D. Eisenhower, a noted military historian, presents the definitive account of the birth of the mod...
Brothers, Rivals, Victors: Eisenhower, Patton, Bradley and the Partnership that Drove the Allied Conquest in Europe by Jonathan W. Jordan.
Supreme Allied Commander Dwight D. Eisenhower, General George S. Patton, and General Omar N. Bradley engineered the Allied Conquest that shattered Hit...
11 Days in December: Christmas at the Bulge, 1944 by Stanley Weintraub.
In 11 Days In December, master historian and biographer Stanley Weintraub tells the remarkable story of the Battle of the Bulge as it has never been ...