Audie Murphy
World War II hero Audie Murphy began life in humble circumstances, but turned out to be an amazing person. Murphy was the son of a Texas sharecropper. He left school early to work in the cotton fields to help make extra money for the family.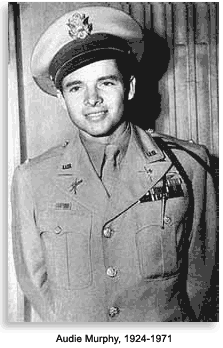 When Murphy turned 18 in 1942, he attempted to join the marines, but was turned down because he was too short. He turned to the Army instead and enlisted for three years of active service. Murphy mastered the Army`s ways and become one of Anerica`s finest combat soldiers. He participated in battles ranging from North Africa to Europe. With his experience and precise skills, he rose to the rank of Second Lieutenant. In January 1945, when Lieutenant Murphy was leading Company B, 15th Infantry near Holtzwihr, France, he was attacked by six German tanks and numerous infantrymen. Murphy ordered his men to take cover in the woods. He remained alone in his forward command post, then used a telephone to give firing coordinates to artillery that killed off the Germans in large numbers, and slowed their advance. When the enemy tanks eventually began to close in on his position, Murphy clambered to the top of a burning U.S. tank destroyer where he used .50 caliber machine guns to fight the infantry concealed by the advancing tanks. Even though he was open to enemy fire from three directions, he managed to kill off dozens of Germans and made their tanks fall back. When they started to retreat from in front of him, he realized that there was a squad of enemy soldiers creeping up his right flank, so he turned his gun on them. Murphy wiped out those soldiers, then turned the gun again on more soldiers closing in only 10 yards away. He sustained a leg wound, but pressed the single-handed fight until his ammunition ran out. He then made his way into the woods where he organized a counterattack. The counterattack was so strong that it almost immediately made the Germans withdraw from the fight. Murphy displayed so much cool courage in his stand to hold his position against the enemy, that he saved his company from annihilation and held the tactically important woods that the enemy was trying to overcome. Murphy rose above the rest, risking his life in a heroic effort. His conduct in that engagement earned him the Congressional Medal of Honor.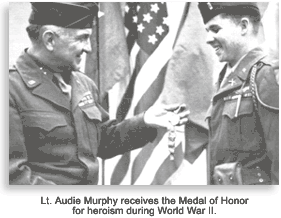 Audie Murphy became the most decorated United States soldier in World War II. At only 21 years of age at the end of the war, he brought home an incredible 33 awards and medals, including the Medal of Honor. He also received awards from France and Belgium for his courage in the war efforts against Germany. On September 21, 1945, Murphy was released from active duty and was reassigned to inactive service. After seeing Murphy`s image on Time magazine, actor James Cagney invited Murphy to join him in Hollywood for an acting career. In 1949, Murphy starred in his first film, Bad Boys, by Allied Artists. The same year, he wrote an autobiography titled To Hell and Back, which became a bestseller, and later a biography film in which he starred as himself. It was released by Universal-International in 1955. In 1950, Murphy was signed to a contract with Universal-International (which later became Universal). During his acting career, he held the record for the highest-grossing picture until the release of Jaws in 1975. When his contract expired in 1965, Murphy was not re-signed because actors were then signing on a film-to-film basis. He appeared in more than 40 films, which earned him close to $3 million. Murphy enjoyed Dallas, Texas, where he used his acting money to buy a small ranch. He also owned ranches in Perris, California, and Tucson, Arizona, where he became a master horse breeder. While relaxing at his ranches, he became a poet and successful songwriter.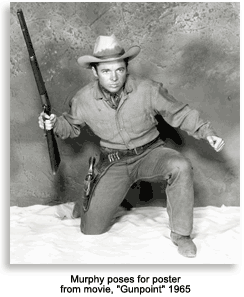 Owing to his extensive time in battle, Murphy suffered from Post Traumatic Stress Disorder (PTSD), which was then known as "Battle Fatigue." He was upset with the fact that he was unable to get personal support. He broke the taboo that discussing war-related mental problems was inappropriate, by speaking out candidly about his personal problems with PTSD. He went on to publicly call for the U.S. government to help people with PTSD and provide health care benefits to those suffering from the problem. On May 28, 1971, Murphy was on a private plane over western Virginia that was flying through thick fog and rain. The plane crashed into the side of a mountain near Roanoke and everyone aboard was killed. On June 7th, Audie Murphy`s remains were buried with full military honors in Arlington National Cemetery. In 1996, the Texas State Legislature officially designated his birthday, June 20th, as Audie Murphy day. In the year 2000, the U.S. Postal Service issued a stamp in honor of Audie Murphy.