Virginia Apgar

Every year, thousands of at-risk babies are saved, thanks to the development of a test assessing the physical condition of newborns created by Dr. Virginia Apgar. Born in Westfield, New Jersey, on June 7, 1909, to Helen Clark Apgar and Charles Emory Apgar, Virginia was the youngest of three children. From an early age, Virginia knew that she wanted to be a part of the medical field, in part due to the death of her eldest brother at the age of three. Apgar entered Mount Holyoke College in 1925 on a scholarship to study zoology. Much of her free time was spent in the college orchestra, playing violin and cello. In 1929 she graduated from Mount Holyoke and entered the College of Physicians and Surgeons at Columbia University. In 1933, Apgar graduated fourth in her class and won a surgical internship at Columbia Presbyterian Hospital (CBH). She served three years under Allen Whipple, who persuaded her to switch to anesthesiology.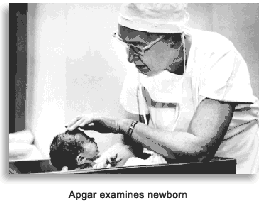 Between 1936 and 1938 Apgar studied anesthesiology from nurses at Columbia Presbyterian and completed her residency at the University of Wisconsin, Madison, and Bellevue Hospital in New York. In 1939 she became certified by the American Society of Anesthesiologists and was appointed Anesthesiologist-in-chief at the Columbian Presbyterian Hospital. She was only the second woman in history to receive certification and the first to head a department at CPH. In 1948 CPH established the Department of Anesthesia, and Apgar left her administrative duties to work more closely with patients. Shortly after, she was appointed Professor of Anesthesiology at the College of Physicians and Surgeons at Columbia University. It was at this time that she began to work in obstetric anesthesiology at the Sloane Hospital for Women.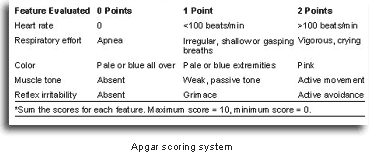 Apgar spent the next few years perfecting a scoring system known as the Apgar Score. This system evaluates a newborn's transition into the world by measuring five items: heart rate, respiratory effort, muscle tone, reflex response and color. By using that method, physicians and nurses could assess whether or not a newborn needed emergency medical attention. In 1952 the score was presented to the medical board, and it was published in 1953. The score is now standard in all hospitals throughout the world. Following her development of the Apgar Score, Apgar returned to school and earned a master's degree in public health from Johns Hopkins University in 1959. After her graduation, Apgar joined the National Foundation of the March of Dimes and was appointed as director of the Division of Congenital Malformations. She remained the director until 1972, when she was appointed vice president and director of basic research and then senior vice president in charge of medical affairs in 1973. Much of Apgar's time with the March of Dimes was devoted to promoting public support and funding for birth defects research.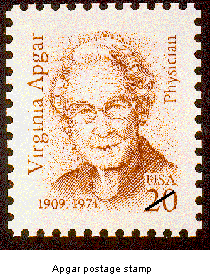 In 1973 Apgar became the first woman to receive the Gold Medal for Distinguished Achievement in Medicine from the College of Physicians and Surgeons. Virginia Apgar died on August 7, 1974, in New York City. In 1994 a postage stamp in Apgar's honor was issued as part of the Great Americans series, and in 1995, she was inducted into the National Women's Hall of Fame in Seneca Falls, New York.
---
For additional famous women, see
Important and Famous Women in America
.