Pearl S. Buck
From the Yangtse river in China to Danby, Vermont, Pearl S. Buck enlightened the lives of many people through her teachings, literature, and her quest to assure every child the right to be adopted. Born on June 26, 1892, in Hillsboro, West Virginia, Pearl Comfort Sydenstricker was the fourth of seven children born to Absalom and Caroline Sydenstricker. The Sydenstrickers, Presbyterian missionaries stationed in China, were on furlough in the United States when Pearl was born. Three months after her birth, the Sydenstrickers returned to their home in Chinkiang, China. Pearl's father was away often, searching for Christian converts, while her mother ministered to Chinese women. In 1900, while her husband was away, Caroline and the children were forced to flee to Shanghai in an attempt to avoid rebels of the Boxer Rebellion. When the rebellion ended, the family was reunited in Chinkiang and, shortly after, returned to the United States for another furlough.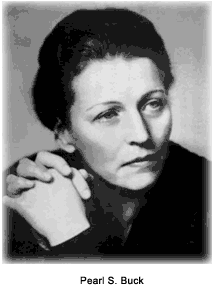 While living in China, Pearl was educated at home by her mother, and a Chinese tutor who taught her to speak both English and Chinese. During their furloughs in the United States, Pearl attended public schools. In 1907, she was sent to a boarding school in Shanghai, called the Jewell School, to finish her education. After returning to the United States in 1910, Pearl enrolled at the Randolph-Macon Woman's College in Lynchburg, Virginia, where she studied psychology. Upon her graduation in 1914, she returned to China to teach at the Presbyterian Board of Missions, and take care of her mother, who had become ill. In 1915, Pearl met John Lossing Buck, a Cornell graduate and agricultural economist. They were married in 1917 and moved to Nanhsuchou. In 1921, the Bucks relocated to Nanking where they both secured teaching positions at Nanking University. Later that year their daughter, Carol, was born. During the delivery, a uterine tumor was found, which forced Pearl to undergo an immediate hysterectomy and end all chances of bearing other children. By the end of 1921, Pearl's mother had passed away, her father and sister had moved in, and her relationship with John was failing. In 1924, Buck returned to the United States in search of medical attention for her daughter. Carol was not developing normally, and after visiting several specialists and psychiatrists, she was diagnosed with phenylketonuria (PKU), a body chemistry disorder that causes severe mental retardation. Buck was urged to place her daughter in an institution, but she refused. During that time, Buck returned to college and in 1926, earned a master's degree in literature from Cornell University. She also adopted a child. When Buck returned to China in 1927, the country was in an uproar. Hostilities among Nationalist soldiers, Communist forces and warlords had broken out. The outbreak, known as the "Nanking Incident," forced westerners to flee the city to avoid being taken hostage or murdered. The Bucks were rescued by American gunboats and transported safely to Japan, where they spent the next year before returning to China.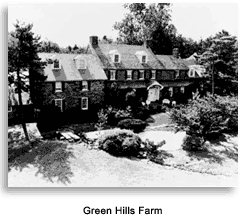 Realizing that the upheaval in China was not likely to settle quickly, Buck returned with her children to the United States. She enrolled Carol in the Vineland Training School, which specialized in teaching mentally retarded people social and practical living skills. To pay the tuition, Buck began to write short stories and essays. Her first book, "The Young Revolutionist," was written to explain the role of missionaries to children. Once again, Buck returned to China, and in 1930 completed her first novel, Winds of Heaven. The manuscript was submitted to the John Day Company and published under the title East Wind, West Wind. Her second book, The Good Earth, was published in 1931, became a best seller for two years in a row, and later won her the Nobel Prize in Literature. In 1934, Buck divorced her husband and returned to the United States, where she took a job at the John Day Company as an editor. Within the next year, she purchased Green Hills Farm in Bucks County, Pennsylvania, married Richard Walsh, her publisher, and they adopted the first of six more children. Buck continued her writings while actively participating in women's and other civil rights activities. She wrote and published articles in the NAACP journal, Crisis, and Opportunity magazine. In 1942 Buck and Walsh founded the East and West Association to promote cultural exchanges and understanding between Asia and the West. In 1949, when adoption agencies refused to aid in the adoption process of American-Asian children, Buck founded Welcome House. As the first international adoption agency for interracial children, Welcome House has since helped to place more than 5,000 children into families.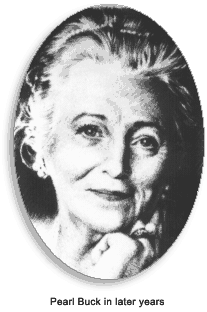 Buck also established and funded the Pearl S. Buck Foundation in 1966. Like the Welcome House, the foundation provided support for adoption of Amerasian children. The foundation provides funding and sponsorship for children from Asian countries. Pearl S. Buck died in Danby, Vermont, on March 6, 1973, and is buried at Green Hills Farm.
---
For additional famous women, see
Important and Famous Women in America
.