Margaret Sanger
Margaret Sanger was born Margaret Louise Higgins on September 14, 1879, in Corning, New York. Margaret was the sixth of 11 children born to Michael Hennessey Higgins and Anne Purcell Higgins. Michael Higgins was an outspoken radical who taught Margaret to stand up for what she believed in and made sure she always spoke her mind. At the age of 50, after 18 pregnancies, 11 live births and seven miscarriages, Anne Higgins died from tuberculosis. Shortly after her mother's death, Margaret decided she would become a nurse and care for pregnant women.
In 1896 Margaret attended Claverack College and the Hudson River Institute, then in 1900 transferred to New York's White Plains Hospital to begin her nursing studies. In 1902, shortly before finishing her nursing program, Margaret married architect William Sanger and they moved to Hastings, a small suburb of New York City. Although she suffered from tuberculosis, Margaret and her husband had three children between 1902 and 1910.
In 1910, the Sanger family moved to New York City. Margaret returned to nursing to help support her family, while William struggled to become a painter. The Sangers became involved with a group of activists and artists in Greenwich Village. Margaret joined the Liberal Club and became a supporter of the anarchist Ferrer Center and Modern School. She joined groups that included the Women's Committee of the New York Socialist Party, and took part in strikes led by the Industrial Workers of the World (IWW). They included the 1912 strike in Lawrence, Massachusetts, and the 1913 strike in Paterson, New Jersey.
In 1912, Sanger gave up her nursing career and began to write a column for the New York Call, entitled, "What Every Girl Should Know." The articles dealt with sex education and women's health, two issues Sanger was passionate about. It was during this period that Sanger ran into her first episode of censorship. Her article on venereal disease was suppressed by the paper, which stated that it was vulgar and obscene.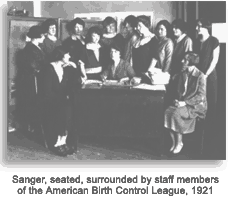 Shortly after, Sanger began to challenge the ruling of the 1873 Federal Comstock Law, which made it a crime to "import or distribute any device, medicine, or information designed to prevent conception or induce abortion, or to mention in print the names of sexually transmitted infections."
After separating from her husband in 1914, Sanger, who believed in sexual liberation, began to have affairs with several men, including H.G. Wells. It was about that time that she published her first issue of The Woman Rebel, a magazine for radical feminists who advocated the right to practice birth control. Three issues were banned for promoting the use of contraception, and in August 1914, Sanger was indicted on nine charges of violating the Comstock Law.
To avoid prosecution, Margaret fled the country to England under the assumed name, Bertha Watson. Once the ship entered international waters, Margaret ordered 100,000 copies of Family Limitation to be distributed. In that 16-page pamphlet, Sanger wrote about sex education, abortion and birth control, which included different types of contraceptive methods and instructions for their use.
While in England, Sanger met several British radicals and feminists who helped her to justify the use of birth control. It was then that she met Havelock Ellis, a psychologist whose theories of female sexuality helped Sanger expand her arguments for birth control; arguing, for example, that a woman should be able to enjoy sexual relations without the worry of becoming pregnant.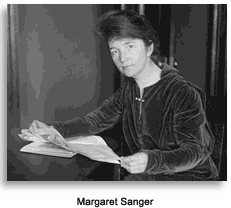 In 1915, during Margaret's stay in England, William Sanger was arrested and sentenced to 30 days in jail for distributing a copy of "Family Limitation" to an undercover postal agent. To gain media attention for her cause, Sanger returned to the United States in October 1915 to face the charges against her. In November 1915, Sanger's five-year-old daughter, Peggy, died suddenly of pneumonia. Strong sentiment and public outcries persuaded the government to drop all charges against Sanger.
After her charges were dropped, Sanger embarked upon a world tour to promote birth control. Although she was arrested in several cities, the publicity it drew helped further her cause. She visited a Dutch birth control clinic that had developed a flexible contraceptive diaphragm. When fitted by trained medical staff, the device was the most effective method of birth control to date. Sanger then returned to the United States to pursue her cause.
On October 16, 1916, Sanger opened the first birth control clinic in the United States, with the help of her sister, Ethel Byrne. The Brooklyn, New York, clinic offered counseling, birth control information and supplies to dozens of women from the borough's Brownsville section. Nine days later, police closed down the clinic and confiscated its literature, condoms and diaphragms. Sanger, Byrne and their staff were arrested and charged with "maintaining a public nuisance." Sanger and Byrne were convicted; while the former spent 30 days in prison, the latter went on a hunger strike for the cause. News of their arrest brought the birth control controversy into public view and gave Sanger a new-found group of supporters.
Sanger appealed her conviction, at the same time appealing for a doctor's right to dispense advice about birth control methods. She lost her appeal, but the New York appellate court gave doctors the right to hand out contraceptive information, if prescribed for medical reasons. In 1917, Sanger began her second magazine publication, Birth Control Review.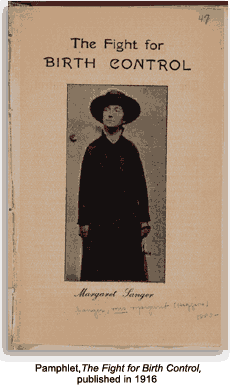 In 1921 Sanger founded the American Birth Control League, whose mission was to provide education, by means of literature and lectures, on the prevention of pregnancy. The organization would later be known as the National Birth Control League, and eventually the Planned Parenthood Federation of America. Margaret served as president of the league until 1928.
In 1922 Margaret married her second husband, oil magnate James Noah H. Slee. Even after they were married, Margaret maintained her sexual independence. Slee was the main contributor to the birth control movement, and the two remained married until his death in 1943.
In 1923, under the direction of Sanger and the American Birth Control League, the first legal birth control clinic, known as the Clinical Research Bureau, opened its doors. The clinic's purposes were to be a research laboratory, to provide contraceptive services to married women and couples, offer counseling and follow-up visits, and train physicians and students. The clinic researched and tested new contraceptives and medical practices, and served as a model for other clinics throughout the world.
In 1927 Sanger traveled to Geneva, Switzerland, to help organize the first World Population Conference, whose aim was to further global acceptance of birth control.
To lobby for birth control legislation, Sanger formed the National Committee on Federal Legislation for Birth Control in 1929. Her efforts to gain government support failed until 1936. A ruling by the U.S. Court of Appeals exempted physicians from the Comstock Law, in effect, giving doctors the right to prescribe and dispense contraceptives. Sanger continued to tour throughout Europe and Asia, helping to promote the spring-form diaphragm and helping to develop spermicidal jellies, foam, powders, and hormonal contraceptives. In 1950 the first oral contraceptive was developed, which would come to be known as the Pill.
During her later years, Margaret published numerous books, including My Fight for Birth Control and Margaret Sanger: An Autobiography. She died on September 6, 1966, at a Tuscon, Arizona, nursing home.
---
For additional famous women, see
Important and Famous Women in America
.