Jane Addams
Born on September 6, 1860, in Cedarville, Illinois, Jane Addams was the youngest of six children. Her father was a local miller and political leader who would later serve as a state senator and fight in the Civil War. Shortly after Jane`s second birthday, her mother died. Her father then remarried and his new wife brought with her two stepchildren.
In 1877, Addams entered the Rockford Female Seminary, which would later be named the Rockford College for Women. She excelled in her studies and, upon her graduation, was named class valedictorian. Addams wanted to continue her studies in the field of medicine, just as her brothers had. But her father had a different idea for her future. He believed that if she continued at school, she would never marry and create a family of her own. So, instead of allowing her to further her education, he quickly swept her and the rest of the family off to Europe for a year or two. He figured that this would keep her mind off of school and allow her to meet the man she would eventually marry.
The thought of marrying and raising a family caused a great deal of stress for Addams and she began to slip into a depression. Her health began to deteriorate and she was hospitalized often.
After 21 months in Europe, Addams and her family returned home. Following their return, her father died. Addams blamed herself for her father`s death, and that pushed her into an even deeper depression. Her illness became such that she ended up having surgery on her spine and was confined to a back harness for the following year.
After her recovery, Addams left once again for Europe, this time with friends. It was during that tour that she discovered Toynbee Hall. Located in one of London`s slum areas, Toynbee Hall served as a settlement house for the less fortunate. It was then that she and Ellen Starr decided to establish a settlement house in Chicago.
With the help of local benefactors, Addams and Starr founded Hull House in 1889. By 1893, the house was in full operation and serving more than 2,000 people a week. Hull House offered schooling, medical care, legal aid, child care, music, art, and drama to the underprivileged.
After starting Hull House, Addams and other Hull House residents and supporters launched several new projects, including the Immigrants` Protective League and the Juvenile Protective Association. About this time she also was appointed to Chicago`s Board of Education and became the first woman president of the National Conference of Charities and Corrections.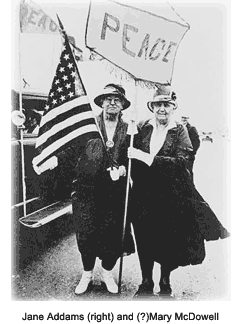 In 1894 Addams founded the Chicago Federation of Settlements and later on helped to establish the National Federation of Settlements and Neighborhood Centers. She served as chairwoman of the Labor Committee of the General Federation of Women`s Clubs, and on the executive board of the National Child Labor Committee.
After being attacked for her support of workers during the Haymarket riots, donor support for Hull-House dropped drastically. Addams supplemented the funding with lecturing tours and articles she had written. In 1909, she helped found the NAACP. In 1910, she published the first of many books, including her autobiography, Twenty Years at Hull House, which became her greatest work and made her a wealthy woman.
Morally opposed to war, Addams organized the Women`s Peace Party and the International Congress of Women. In 1915, she participated in the International Congress of Women rally at the Hague in an effort to stop World War I, and worked with the Women`s Peace Party, which would eventually become the Women`s International League for Peace and Freedom.
In 1917, the U.S. entered the war. Addams` efforts to stop it caused her to come under huge amounts of criticism and she was eventually expelled from the Daughters of the American Revolution. Those problems did not stop her efforts, and in 1919 she was elected the first president of the Women`s International League for Peace and Freedom. She held that position until her death.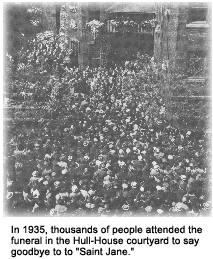 In 1920, in the face of increasing criticism, Addams helped to found the American Civil Liberties Union. Instead of being known as a pacifist, people were now accusing her of being a socialist or Communist. Even though she was under criticism, Hull House continued to be successful.
In 1926, Addams suffered a heart attack from which she would never fully recover. Her health continued to decline and on December 10, 1931, she was admitted to a Baltimore hospital. That was the same day she was awarded the Nobel Peace Prize.
Addams died on May 21, 1935, just three days after an operation revealed she had cancer. Funeral services were held in the courtyard of Hull House and she was buried in her hometown of Cedarville.
---
For additional famous women, see
Important and Famous Women in America
.