Dorothea Dix
A "voice for the mad," Dorothea Dix did more than anyone else of her generation to improve the lives of mentally ill people in America.
Dorothea Lynde was born to a circuit-riding Methodist preacher, Joseph Dix, and his wife Mary Bigelow Dix, on the Maine frontier.* She left at the age of 12 to live with her grandmother in Worcester, Massachusetts.
Dix was merely 14 when she founded a school for little children. She taught, and also wrote learning materials for, her youthful charges over the next two decades. At one point, Dix crossed the Atlantic to England where she met advocates of better treatment for the insane.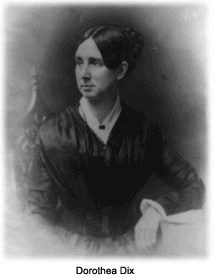 In March 1841, when she was just shy of 40, Dix's true life's work suddenly unfolded in front of her. She volunteered to hold a devotional hour for women in the East Cambridge jail and discovered that some of the tattered inmates were chained in a filthy, cold cell simply because they were mentally ill. Dix had confronted the hidden-away fact that most psychiatrically troubled people of the day existed in deplorable circumstances within prisons, poorhouses, reformatories — and even homes. The shy, but incensed witness reported the situation to a local court. Dix's charges were spurned, but she made the situation public, and efforts were made to improve conditions.
Dix then investigated every prison and poorhouse she could find in the state, employing thorough research skills. In January 1843, she presented the state legislature with a long, stark and arresting address. Several powerful men came to Dix's aid after that; with their influence, the legislature was persuaded to foot the bill to expand the state hospital for the insane at Worcester.
Charged by her early progress, Dix took her cause into other states. Living out of the proverbial suitcase, she logged more than 30,000 miles over a three-year period and included Europe in her travels. She became well-known for writing memoranda to edify, embarrass and spur legislators into doing the right thing for the mentally ill. She also won support from educators such as Horace Mann and statesmen such as Charles Sumner. Although Dix's crusade was her chief preoccupation, she also lent support to prison reform and schools for the blind.
Dix experienced one major setback: Her push for federal land grants to endow state mental hospitals was a failure.
A Civil War interlude
Shortly following the attack on Fort Sumter in April 1861, 59-year-old Dorothea Dix offered her services to the Union Army and was appointed the Superintendent of Female Nurses in June. She would work without compensation throughout the war.
First, Dix had to convince ignorant military superiors that women could nurse soldiers effectively, then she began a recruitment program. Concerned that immature, marriage-minded women might be detrimental, she enlisted older, plain-looking women and insisted on an equally plain dress code. Despite these restrictions—and a strict, autocratic leadership style—some 3,000 women served under "Dragon Dix" in the bloody conflict.
Army nursing improved during Dix's tenure. She cared about her nurses and soldiers alike and would not hesitate to buck the military establishment to bolster that care. When medical supplies were not forthcoming from the government, she scrounged from private sources.
The final years
Following the war, Dix returned to her life's work. She resumed travel throughout the United States and Europe on behalf of the mentally ill and gained the support of wealthy people.
By 1880, Dix had had a direct hand in founding 32 of 123 mental hospitals in the country—an increase of 110 since the fateful year of 1843.
At the age of 80, Dix gave in to physical infirmity and went to live in the guest rooms of the state mental hospital in Trenton, New Jersey — an institution she helped to establish more than three decades before. She lived there five years, then died on July 18, 1887.
---
*Maine was still part of Massachusetts.
For additional famous women, see
Important and Famous Women in America
.