Ruth Bader Ginsburg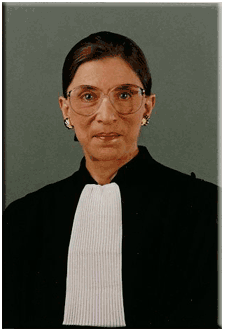 Ruth Bader Ginsburg was an associate justice on the U.S. Supreme Court. She served on the court from August 10, 1993, until her death on September 18, 2020.
Early days
Ginsburg was born Joan Ruth Bader in Brooklyn, New York, on March 15, 1933. She was the second daughter born to Nathan and Celia Bader. Her older sister died when she was very young. Ruth attended James Madison High School in Brooklyn. Her mother died of cancer the day before she graduated. Celia had taught Ruth to be strong and was actively involved in her education. She left her daughter money to attend college; in addition, Ruth had won a full scholarship to Cornell University.
Marriage and higher education
Ruth met Martin Ginsburg while attending Cornell University. They married in 1954. They had one daughter and one son. Ruth received her B.A. from Cornell in 1954. The couple attended Harvard Law School. When Martin graduated from Harvard Law, he accepted a job in New York City, and Ruth transferred to Columbia Law School, also in New York.
She won a place on the Law Review, becoming the only person to be listed on the review at both Columbia and Harvard. She earned her LL.B degree at Columbia, graduating with the highest grades in the history of Columbia Law School.
Career
From 1959 to 1961, Ruth Ginsburg served as a law clerk for the Honorable Edmund L. Palmieri, Judge of the U.S. District Court for the Southern District of New York. In 1961, she became a research associate for the director of Columbia Law School Project on International Procedure.
Ginsburg then accepted the position of Professor of Law at Rutgers University, serving from 1963 to 1972. In 1972, she became a professor of law at Columbia Law School and remained at Columbia until 1980. She became the first woman to earn tenure, and she authored the first law book to be written on gender-equality law. She served as a fellow at the Center for Advanced Study in the Behavioral Sciences in Stanford University, California, from 1977-1978.
In 1980, President Jimmy Carter nominated Ginsburg to serve as a judge on the U.S. Court of Appeals on the D.C. Circuit. She served as a federal appeals judge from 1981 until President Bill Clinton nominated her in 1993 to succeed retiring Supreme Court justice Byron R. White.
Clinton was impressed by her life story; he praised her for her efforts to advance women's rights. During her confirmation hearings in the U.S. Senate, Ginsburg refused to answer questions regarding her personal views on most issues, or how she would adjudicate certain hypothetical situations as a Supreme Court justice. However, she was confirmed by the U.S. Senate by a 96 to three vote and took her seat on August 10, 1993. Ginsburg was the first Jewish woman to serve on the court.
Justice Ginsburg on the issues
While Justice Ginsburg leaned towards the liberal side of the court's political spectrum, she did not hesitated to vote with her conservative colleagues. She showed a continued willingness to promote women's rights from the high court. A sampler from her voting record:
Abortion. It's a woman's body and a woman's choice (July 1993).

Civil rights. Hate crime sentencing without a jury is unconstitutional (June 2000). Uphold "Miranda," informing people being arrested of rights (June 2000). Boy Scouts should be required to accept gay scoutmasters (June 2000).

Crime. States have broad powers to limit jury awards (December 2000). Fleeing police is not in itself sufficient to allow search (January 2000). No death penalty without considering mitigating evidence (April 2000). Can't lengthen prison sentences retroactively (March 2000). Life-sentence alternative should affect death sentence (June 2000).

Drugs. No tactile inspection by police for drugs (April 2000). No roadblocks with drug-sniffing dogs (November 2000).

Education. Disallow taxpayer funding for parochial school materials (June 2000).

Environment. Permissible to sue polluters for past pollution (January 2000). Extend Clean Water Act restrictions to isolated water bodies (January 2001).

Gun control. Congress can regulate guns in school under Commerce clause (January 1995).

Health care. Allow states to restrict cigarette ads beyond federal rules (June 2001).

Immigration. Six-month limit on detaining illegal immigrants (June 2001).

Jobs. Employers must get employee agreement for comp time rules (May 2000).
Legacy and Life
Unlike other justices at the time, Ginsburg enjoyed the opportunity to address the public. She delivered her views eloquently and with a deep sense of commitment. In her later years, she became a pop culture icon, especially when she was dubbed "The Notorious RBG," a comparison made to rapper Notorious B.I.G. due to her fiery dissents on the court. Her cultural appeal with all ages inspired several books about her, a comic opera, an "RBG workout" routine, and her likeness appeared on bobbleheads, Lego figures, t-shirts and more.
Ginsburg battled cancer several times in the last 20 years of her life. Ginsburg died at her home in Washington, D.C., due to complications of metastatic pancreas cancer on September 18, 2020.
Chief Justice John G. Roberts, Jr. said of Ginsburg: "future generations will remember Ruth Bader Ginsburg as we knew her--a tireless and resolute champion of justice."
Ginsburg's legacy, both in law and in the lives of people all across the nation, will undoubtedly be profound and long-lasting, especially for her work as a champion of women's rights and in her fight for the equality of all people.
Justice Stephen G. Breyer, having heard of Ginsburg's death, penned a poem about her:
a great Justice;
a woman of valour;
a rock of righteousness;
and my good, good friend.
The world is a better place for her having lived in it.
And so is her family;
her friends;
the legal community;
and the nation.