Clark Gable
Clark Gable was an American film actor, the biggest box-office star of the early sound-film era. He was known as the King of Hollywood.
Beginnings
William Clark Gable was born on February 1, 1901, in Cadiz, Ohio. His parents were William H. Gable and Adeline Hershelman. His father was a farmer and oil-driller. His mother died when he was an infant. William was remarried to Jennie Dunlap, who loved Clark and reared him as if he were her own child. Clark dropped out of school and worked at numerous odd jobs before joining a traveling theater company. In 1924, he married his acting coach, Josephine Dillon; she was 15 years his senior. They moved to Hollywood so that Clark could concentrate on his acting career. Although he found work as an extra, and small parts in such films as The Plastic Age, Clark was not offered any major roles, so he went back to the stage. Clark and Josephine were divorced in 1930. He was finally offered a small part in the Painted Desert in 1931, and from that point on, his career flourished.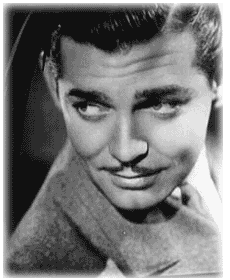 A career blossoms Gable married Maria Langham, also nearly 15 years older than he, in 1931; that marriage ended in divorce in 1939. That year, he married the love of his life, Carole Lombard. In 1932, Gable starred in Red Dust, which made him MGM's most important star. However, the studio chose to penalize him for refusing a role, so he was farmed out to Columbia Pictures. That penalty resulted in an Oscar for his role in It Happened One Night, in 1934. MGM then placed him in numerous leading parts, including Mutiny on the Bounty (1935), and his most famous role as Rhett Butler in Gone with the Wind (1939). Tragedy and service When his wife, Carole, died in a plane crash while returning from a World War II bond drive in 1942, Gable was grief stricken. He joined the Army Air Force. As a B-17 bomber pilot, Gable flew several raids over Nazi Germany, earning the Air Medal and the Distinguished Flying Cross. When he left the Army Air Force, he held the rank of major. Flying solo Following his return from the war, Gable became unhappy with the mediocre roles MGM was offering him. He declined to renew his contract with them in 1953, and decided to work independently. In 1949, Gable married his fourth wife, English actress Sylvia Ashley, the widow of Douglas Fairbanks. Their short marriage ended in divorce in 1952. In July 1955, he married a former sweetheart, Kathleen Williams Spreckles. She had two children from a previous marriage. Gable became their stepfather. In 1959, Clark and Kay discovered that they were going to be parents. However, Clark would not be present for the birth of his son, John Clark Gable; he was born on March 20, 1961, four months after his father's death. Clark Gable also had a daughter, Judy Lewis, born in 1935. She was the result of an affair with actress Loretta Young, which had begun on the set of Call of the Wild. A final role In his last film, The Misfits, Gable co-starred with Marilyn Monroe, also in her final completed role. Misfits was released in 1961; Gable did not live to see it. He died of a heart attack in Los Angeles, California, in November 1960. Gable was 59 years old. His remains were interred beside those of his third wife, Carole Lombard, in Forest Lawn Memorial Park, Glendale, California. "The King of Hollywood" remains one of the most beloved of all film actors.