Roy Wilkins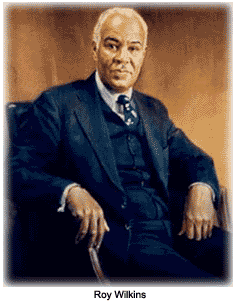 Roy Wilkins was a prominent African-American civil rights activist and journalist in the United States. He was the executive director of the National Association for the Advancement of Colored People (NAACP) from 1955 to 1977. Childhood and education Roy Wilkins was born on August 30, 1901, in St. Louis, Missouri. His mother died when he was five years old, then he and his siblings were sent to his aunt and uncle's home in St. Paul, Minnesota. They were poor, but he was able to attend an integrated school system. As a young man, Wilkins was a member of the local NAACP, and a reporter/night editor of a local paper while he attended college. In 1923, he received a bachelor's degree in sociology, with a minor in journalism, from the University of Minnesota. Work life and marriage Late in the 1920s, Wilkins worked full time for the Call, a Kansas City, Missouri, publication. At that time, he met and married Aminda "Minnie" Badeau, a social worker from St. Louis. They did not have children. The couple moved to New York in 1931, when Roy was offered the position of NAACP assistant secretary. Wilkins became the editor of Crisis, the NAACP's official magazine, in 1934 and remained in that position until 1949. In 1955, he was given the position of NAACP executive director, and quickly gained a reputation as an articulate spokesman for civil rights.
Executive director
Wilkins helped to organize the 1963 March on Washington. Also during his tenure, NAACP campaigned for the Civil Rights Act of 1964, the Voting Rights Act of 1965, and the Fair Housing Act of 1968. He also was consulted by four presidents. Wilkins strongly opposed militancy in the civil rights movement, as exemplified by Black Power. In 1967, Wilkins received the Presidential Medal of Freedom, the nation's highest civilian decoration. Latter days In 1977, at the age of 76, Wilkins retired from the NAACP. He died on September 9, 1981. Wilkins' autobiography, Standing Fast: The Autobiography of Roy Wilkins, was published a year later.
In 1992, the Roy Wilkins Center for Human Relations and Human Justice was established at the University of Minnesota's Humphrey Institute of Public Affairs.