Elizabeth Taylor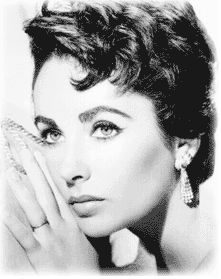 Elizabeth Taylor is an Academy Award-winning British actress. She is considered to be the last icon of Hollywood's golden era. Many view her as the most beautiful actress in the world. She also is known for her love of jewelry and line of perfumes. Birth and family Elizabeth Taylor was born on February 27, 1932, as Dame Elizabeth Rosemond Taylor, in Hampstead, London. Her parents were Francis Lenn Taylor and Sara Viola Warmbrodt. Originally from Arkansas City, Kansas, they were Americans residing in Britain, so Elizabeth was born with U.S. citizenship. Her father was an art dealer and her mother, a former actress whose stage name was Sara Sothern. Elizabeth has an older brother, Howard Taylor. The family moved back to the United States when the United Kingdom entered World War II. They settled in Los Angeles, California, where her mother's family was living. A budding film career Elizabeth's first movie appearance was in There's One Born Every Minute, released in 1942 when she was nine years old. She was later signed with Metro-Goldwyn-Mayer. Her first movie with MGM was Lassie Come Home in 1943. That appearance drew attention to her. Following a few more films, Elizabeth appeared in her first leading role in National Velvet in 1944 with Mickey Rooney. The film was a huge box-office hit, and she was signed to a long-term contract with MGM. Elizabeth attended school on the MGM lot and received a diploma from University High School in Los Angeles in 1950. A tumultuous personal life She was married that year, at the age of 18, to hotel heir Conrad Hilton Jr. They divorced in less than a year. He was the first of seven husbands. She was married to actor Michael Wilding in 1952. They had two children, but were divorced in 1957. Her third husband was producer Mike Todd. They married in 1957 and had one daughter; he died in 1958. Her fourth husband was singer Eddie Fisher. They were married in 1959 and divorced in 1964. The fifth was actor Richard Burton. Their first marriage was from 1964 to 1974; the second was from 1975 to 1976, when they were divorced again. Taylor's sixth was Senator John Warner. They were married in 1976 and divorced in 1982. Her seventh and final marriage was to Teamster construction-equipment operator Larry Fortensky in 1991. Their divorce was in 1996. She has stated that she was happiest with Mike Todd and Richard Burton. Following Taylor's marriage to Richard Burton, she relinquished her American citizenship, but is a permanent resident of the United States. She received a green card and maintains her British passport. Film, television, and the stage Taylor was nominated for the Best Actress Academy Award for Raintree County in 1957, Cat on a Hot Tin Roof (1958), and Suddenly, Last Summer in 1959. She finally took home the Oscar for her performance in Butterfield 8 in 1960. In 1963, Taylor became the highest-paid movie star up to that time, when she accepted $1 million to play the title role in the lavish production of Cleopatra for 20th Century Fox. She won the Best Actress Oscar again in 1966 for Who's Afraid of Virginia Woolf?. Taylor has appeared on television frequently. The most recent was a biography special, "Elizabeth Taylor: Facets" (2003). She also supplied the voice for Maggie on the "Simpsons."
She has also appeared on the stage. In 1982, she had a role in Lillian Hellman's The Little Foxes, and in 1983 she appeared in Private Lives with Richard Burton.
Elegant enterprises It is well known that Elizabeth Taylor has a passion for jewelry. Two of her best-known pieces are the Krupp Diamond, weighing 33.19 carats, and the 69.42-carat Taylor-Burton Diamond, a gift from Richard Burton. In 2005, she partnered with Jack and Monty Abramov of Mirabelle Luxury Concepts of Los Angeles, to introduce the House of Taylor Jewelry.
Taylor also launched a perfume line, which includes "Passion," "White Diamonds," and "Black Pearls." They command an estimated $200 million a year in sales.
A good heart and numerous honors Elizabeth Taylor established a AIDS foundation fund raiser, following the death of her long-time friend and co-star, Rock Hudson. By 1999, it helped to raise $50 million to fight the disease. Taylor has received numerous other awards, including the Jean Hersholt Humanitarian Award in 1992. In 1993, she received the American Film Institute Life Achievement Award. In 1999, she was awarded a Dame Commander (DBE) by the British government and Queen Elizabeth II. Her hand- and footprints are immortalized in the front of Grauman's Chinese Theater, along with a star on the Hollywood Walk of Fame. She was a Kennedy Center Honoree in 2002. In 2005, Taylor received the Britannia Award for Artistic Excellence in International Entertainment. A host of health problems In November 2004, Taylor announced she had been diagnosed with congestive heart failure.* She has endured numerous other health problems, including breaking her back five times. She has survived a benign brain tumor operation, skin cancer, and has twice faced life-threatening bouts with pneumonia. Owing to those health issues, Taylor is now a recluse and no longer makes appearances. She is confined to a wheelchair as well.
Taylor currently resides in Bel Air, California, and has made plans to have her ashes spread over Wales. Wales is the homeland of her former husband, Richard Burton.
---
*A terminal condition in which the heart pumps an insufficient amount of blood throughout the body.
See also
Marilyn Monroe
.